1192:

The Senate is still Nordic," about how the decision-makers in the Senate are still those of Nordic descent

Date:

1922

Pages:1 of 1

Source:

The Harry H. Laughlin Papers, Truman State University, papers, D-4-2

View this image in our new website.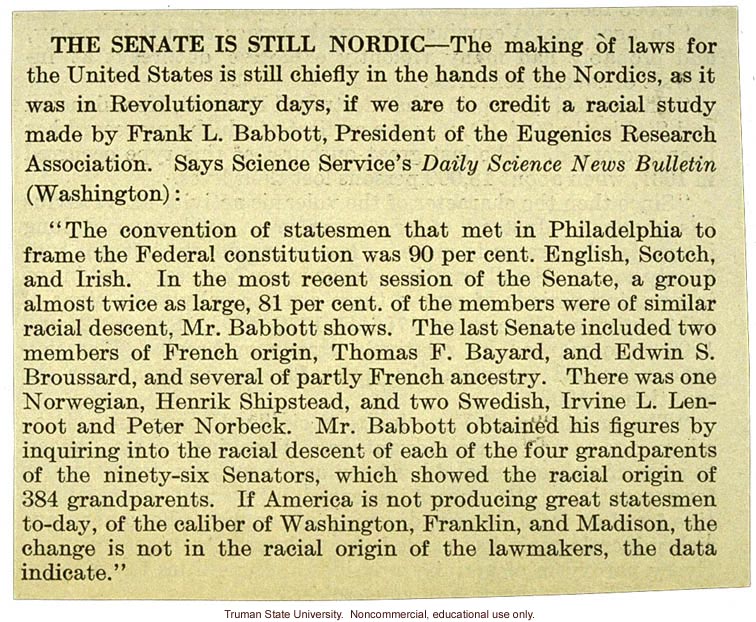 The Senate is Still Nordic - The making of laws for the United States is still chiefly in the hands of the Nordics, as it was in Revolutionary days, if we are to credit a racial study made by Frank L. Babbott, President of the Eugenics Research Association. Says Science Service's [italics]Daily Science News Bulletin[end italics] (Washington): "The convention of statesmen that met in Philadelphia to frame the Federal constitution was 90 per cent. English, Scotch, and Irish. In the most recent session of the Senate, a group almost twice as large, 81 per cent. of the members were of similar racial descent, Mr. Babbott shows. The last Senate included two members of French origin, Thomas F. Bayard, and Edwin S. Broussard, and several of partly French ancestry. There was one Norwegian, Henrik Shipstead, and two Swedish, Irvine L. Lenroot and Peter Norbeck. Mr. Babbott obtained his figures by inquiring into the racial descent of each of the four grandparents of the ninety-six Senators, which showed the racial origin of 384 grandparents. If America is not producing great statesmen to-day, of the caliber of Washington, Franklin, and Madison, the change is not in the racial origin of the lawmakers, the data indicate."




Copyright 1999-2004: Cold Spring Harbor Laboratory; American Philosophical Society; Truman State University; Rockefeller Archive Center/Rockefeller University; University of Albany, State University of New York; National Park Service, Statue of Liberty National Monument; University College, London; International Center of Photography; Archiv zur Geschichte der Max-Planck-Gesellschaft, Berlin-Dahlem; and Special Collections, University of Tennessee, Knoxville.
The images and text in this Archive are solely for educational and scholarly uses. The materials may be used in digital or print form in reports, research, and other projects that are not offered for sale. Materials in this archive may not be used in digital or print form by organizations or commercial concerns, except with express permission.