1289:

I. McDougle letter to A. Estabrook, about research on mixed race marriages for Mongrel Virginians (5/3/1924)

Date:

1924

Source:

University of Albany, SUNY, Estabrook, SPE,XMS 80.9 Bx 1 folder 1-3

View this image in our new website.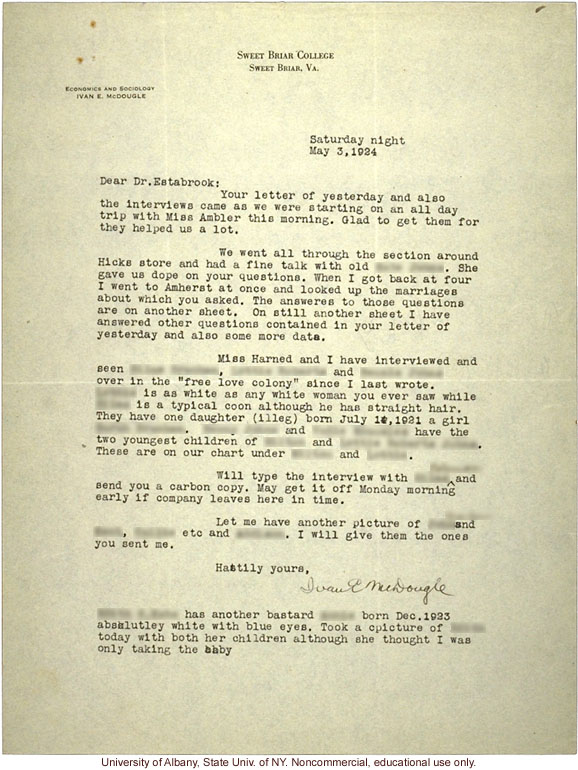 Sweet Briar College Sweet Briar, Va. Economics and Sociology Ivan E. McDougle Saturday night May 3, 1924 Dear Dr. Estabrook: Your letter of yesterday and also the interviews came as we were starting on an all day trip with Miss Ambler this morning. Glad to get them for they helped us a lot. We went through the section around Hicks store and had a fine talk with old [obscured]. She gave us dope on your questions. When I got back at four I went to Amherst at once and looked up the marriages about which you asked. The answers to these questions are on another sheet. On still another sheet I have answered other questions contained in your letter of yesterday and also some more data. Miss Harned and I have interviewed and seen [obscured], [obscured] and [obscured] over in the "free love colony" since I last wrote. [obscured] is as white as any white woman you ever saw while [obscured] is a typical coon although he has straight hair. They have one daughter (illeg) born July 16, 1921 a girl [obscured]. [obscured] and [obscured] have the two youngest children of [obscured] and [obscured]. These are on our chart under [obscured] and [obscured]. Will type the interview with [obscured] and send you a carbon copy. May get it off Monday morning early if the company leaves here in time. Let us have another picture of [obscured] and [obscured], [obscured] etc and [obscured]. I will give them the ones you sent me. Hastily yours, [signed]Ivan E McDougle [obscured] has another bastard [obscured] born Dec. 1923 absolutely white with blue eyes. Took a cpicture of [obscured] today with both her children although she thought I was only taking the baby [end]




Copyright 1999-2004: Cold Spring Harbor Laboratory; American Philosophical Society; Truman State University; Rockefeller Archive Center/Rockefeller University; University of Albany, State University of New York; National Park Service, Statue of Liberty National Monument; University College, London; International Center of Photography; Archiv zur Geschichte der Max-Planck-Gesellschaft, Berlin-Dahlem; and Special Collections, University of Tennessee, Knoxville.
The images and text in this Archive are solely for educational and scholarly uses. The materials may be used in digital or print form in reports, research, and other projects that are not offered for sale. Materials in this archive may not be used in digital or print form by organizations or commercial concerns, except with express permission.