1294:

W. Plecker letters to A. Estabrook, about court case of a Colored woman who attempted to "pass for white" on marriage license (8/29/1924, 9/9/1924)

Date:

1924

Source:

University of Albany, SUNY, Estabrook, SPE,XMS 80.9 Bx 1 folder 1-3

View this image in our new website.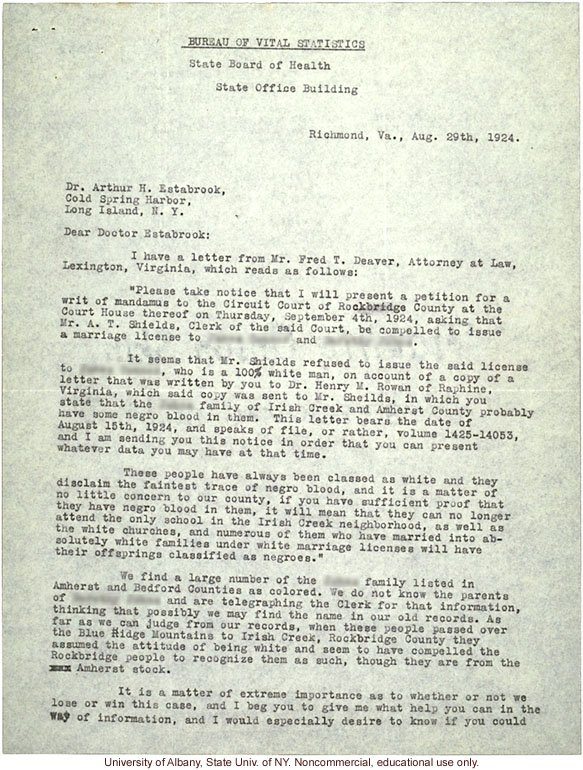 Bureau of Vital Statistics State Board of Health State Office Building Richmond, Va., Aug. 29th, 1924. Dr. Arthur H. Estabrook, Cold Spring Harbor, Long Island, N.Y. Dear Dr. Estabrook: I have letter from Mr. Fred T. Deaver, Attorney at Law, Lexington, Virginia, which reads as follows: "Please take notice that I will present a petition for a writ of mandamus to the Circuit Court of Rockbridge County at the Court House thereof on Thursday, September 4th, 1924, asking that Mr. A. T. Shields, Clerk of the said Court, be compelled to issue a marriage license to [obscured] and [obscured]. It seems that Mr. Shields refused to issue the said license to [obscured], who is a 100% white man, on account of a copy of a letter that was written by you to Dr. Henry M. Rowan of Raphine, Virginia, which said copy was sent to Mr. Shields, in which you state that the [obscured] family of Irish Creek and Amherst County probably have some negro blood in them. This letter bears the date of August 15th, 1924, and speaks of file, or rather volume 1425-14053, and I am sending you this notice in order that you can present whatever data you may have at that time. These people have always been classed as white and they disclaim the faintest trace of negro blood, and it is a matter of no little concern to our county, if you have sufficient proof that they have negro blood in them, it will mean that they can no longer attend the only school in the Irish Creek neighborhood, as well as the white churches, and numerous of them who have married into absolutely white families under the white marriage license law will their offsprings classified as negroes." We find a large number of the [obscured] family listed in Amherst and Bedford Counties as colored. We do not know the parents of [obscured] and are telegraphing the Clerk for that information, thinking that possibly we may find the name in our old records. As far as we can judge from our records, when these people passed over the Blue Ridge Mountains to Irish Creek, Rockbridge County they assumed the attitude of being white and seem to have compelled the Rockbridge people to recognize them as such, though they are from the XXX Amherst stock. It is a matter of extreme importance as to whether or not we lose or win this case, and I beg you to give me what help you can in the way of information, and I would especially desire to know if you could [end]




Copyright 1999-2004: Cold Spring Harbor Laboratory; American Philosophical Society; Truman State University; Rockefeller Archive Center/Rockefeller University; University of Albany, State University of New York; National Park Service, Statue of Liberty National Monument; University College, London; International Center of Photography; Archiv zur Geschichte der Max-Planck-Gesellschaft, Berlin-Dahlem; and Special Collections, University of Tennessee, Knoxville.
The images and text in this Archive are solely for educational and scholarly uses. The materials may be used in digital or print form in reports, research, and other projects that are not offered for sale. Materials in this archive may not be used in digital or print form by organizations or commercial concerns, except with express permission.