1336:

A. Strode letter to H. Laughlin, requesting a deposition on hereditary feeblmindedness for the trial of Carrie Buck in Amherst, Virginia (9/30/1924)

Date:

1924

Source:

University of Albany, SUNY, Estabrook, SPE,XMS 80.9 Bx 1 folder1-40

View this image in our new website.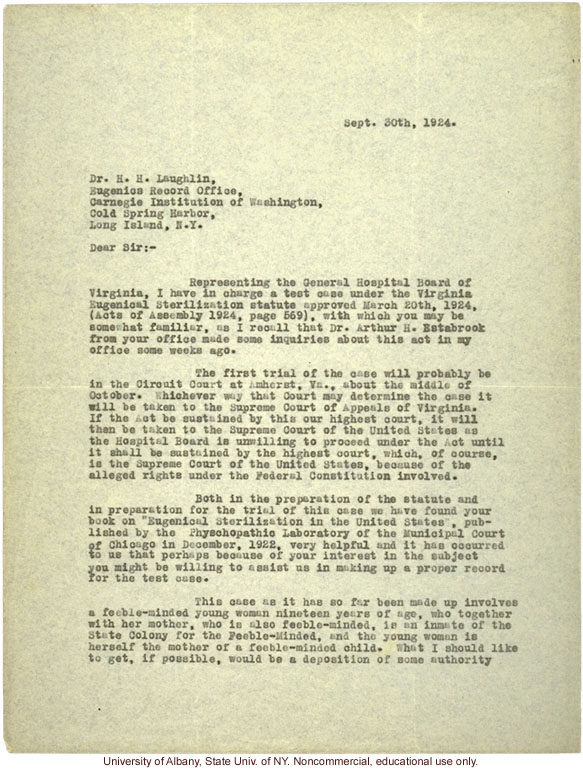 Sept. 30th, 1924. Dr. H. H. Laughlin, Eugenics Record Office, Carnegie Institution of Washington, Cold Spring Harbor, Long Island, N.Y. Dear Sir:- Representing the General Hospital Board of Virginia, I have in charge a test case under the Virginia Eugenical Sterilization statute approved March 20th, 1924, (Acts of Assembly 1924, page 569), with which you may be somewhat familiar, as I recall that Dr. Arthur H. Estabrook from your office made some inquiries about this act in my office some weeks ago. The first trial of the case will probably be in the Circuit Court at Amherst, Va., about the middle of October. Whichever way that Court may determine the case it will be taken to the Supreme Court of Appeals of Virginia. If the Act be sustained by this our highest court, it will then be taken to the Supreme Court of the United States as the Hospital Boarad is unwilling to proceed under the Act until it shall be sustained by the highest court, which, of course, is the Supreme Court of the United States, because of the alleged rights under the Federal Constitution involved. Both in the preparation of the statute and in preparation for the trial of this case we have found your book on "Eugenical Sterilization in the United States", published by the Psychopathic Laboratory of the Municipal Court of Chicago in December, 1922, very helpful and it has occurred to us that perhaps because of your interest in the subject you might be willing to assist us in making up a proper record for the test case. This case as it has so far been made up involves a feeble-minded young woman nineteen years of age, who together with her mother, who is also feeble-minded, is an inmate of the State Colony for the Feeble-Minded, and the young woman is herself the mother of a feeble-minded child. What I should like to get, if possible, would be a deposition of some authority [end]




Copyright 1999-2004: Cold Spring Harbor Laboratory; American Philosophical Society; Truman State University; Rockefeller Archive Center/Rockefeller University; University of Albany, State University of New York; National Park Service, Statue of Liberty National Monument; University College, London; International Center of Photography; Archiv zur Geschichte der Max-Planck-Gesellschaft, Berlin-Dahlem; and Special Collections, University of Tennessee, Knoxville.
The images and text in this Archive are solely for educational and scholarly uses. The materials may be used in digital or print form in reports, research, and other projects that are not offered for sale. Materials in this archive may not be used in digital or print form by organizations or commercial concerns, except with express permission.