1450:

G. Hall (NY State Board of Charities) letter to A.H. Estabrook, about The Jukes in 1915 and genetic vs. environmental causes of pauperism (1/30/1917)

Date:

1917

Pages:1 of 1

Source:

University of Albany, SUNY, Estabrook, SPE,XMS 80.9 Bx 2 Folder 1-1

View this image in our new website.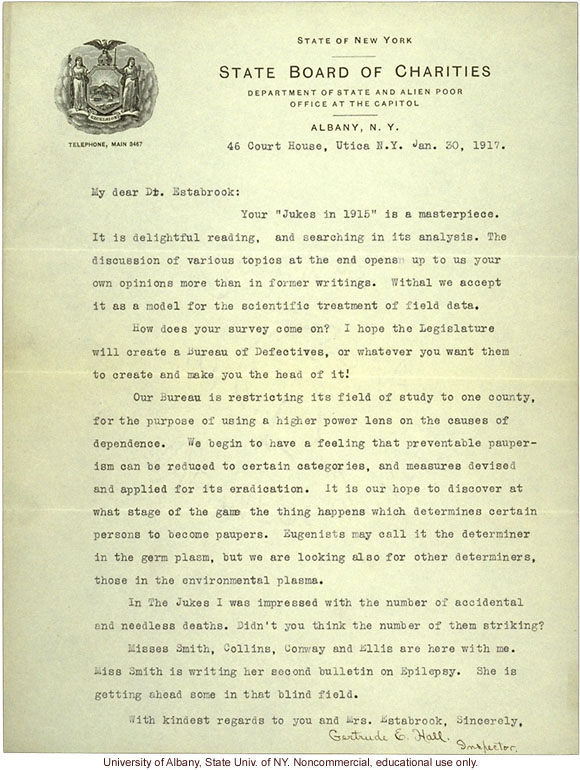 [graphic seal] Telephone, Main 3467 State of New York [centered dash] State Board of Charities Department of State and Alien Poor Office at the Capitol [centered dash] Albany, N. Y. 46 Court House, Utica N. Y. Jan. 30, 1917. My dear Dr. Estabrook: Your "Jukes in 1915" is a masterpiece. It is delightful reading, and searching in its analysis. The discussion of various topics at the end opens up to us your own opinions more than in former writings. Withal we accept it as a model for the scientific treatment of field data. How does your survey come on? I hope the Legislature will create a Bureau of Defectives, or whatever you want them to create and make you the head of it! Our Bureau is restricting its field of study to one county, for the purpose of using the higher power lens on the causes of dependence. We begin to have a feeling that preventable pauperism can be reduced to certain categories, and measures devised and applied for its eradication. It is our hope to discover at what stage of the game the thing happens which determines certain persons to become paupers. Eugenists may call it the determiner in the germ plasm, but we are looking also for other determiners, those in the environmental plasms. In the Jukes I was impressed with the number of accidental and needless deaths. Didn't you think the number of them striking? Misses Smith, Collins, Conway and Ellis are here with me. Miss Smith is writing her second bulletin on Epilepsy. She is getting ahead some in that blind field. With kindest regards to you and Mrs. Estabrook, Sincerely, [signed]Gertrude E. Hall, Inspector. [end]




Copyright 1999-2004: Cold Spring Harbor Laboratory; American Philosophical Society; Truman State University; Rockefeller Archive Center/Rockefeller University; University of Albany, State University of New York; National Park Service, Statue of Liberty National Monument; University College, London; International Center of Photography; Archiv zur Geschichte der Max-Planck-Gesellschaft, Berlin-Dahlem; and Special Collections, University of Tennessee, Knoxville.
The images and text in this Archive are solely for educational and scholarly uses. The materials may be used in digital or print form in reports, research, and other projects that are not offered for sale. Materials in this archive may not be used in digital or print form by organizations or commercial concerns, except with express permission.