1633:

The Swedish Nation, pedigree of epilepsy in Swedish farmer lineage

Date:

1921

Pages:1 of 1

Source:

International Center of Photography, ,

View this image in our new website.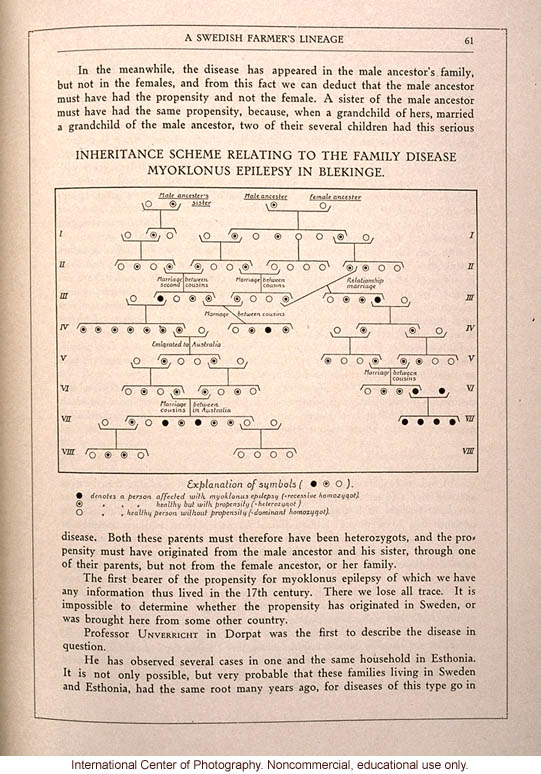 A Swedish Farmer's Lineage 61 [hairline rule] In the meanwhile, the disease has appeared in the male ancestor's family, but not in the females, and from this fact we can deduct that the male ancestor must have had the propensity and not the female. A sister of the male ancestor must have had the same propensity, because, when a grandchild of hers, married a grandchild of the male ancestor, two of their several children had this serious disease. Both these parents must therefore have been heterozygots, and the propensity must have originated from the male ancestor and his sister, through one of their parents, but not from the female ancestor, or her family. The first bearer of this propensity for myoklonus epilepsy for which we have any information thus lived in the 17th century. There we lose all trace. It is impossible to determine whether the propensity has originated in Sweden, or was brought here from some other country. Professor Unverricht in Dorpat was the first to describe the disease in question. He has observed several cases in one and the same household in Esthonia. It is not only possible, but very probably that these families living in Sweden and Esthonia, had the same root many years ago, for diseases of this type go in [title to genealogy graphic]Inheritance Scheme Relating to the Family Disease Myoklonus Epilepsy in Blekinge. [graphic mid page] [end]




Copyright 1999-2004: Cold Spring Harbor Laboratory; American Philosophical Society; Truman State University; Rockefeller Archive Center/Rockefeller University; University of Albany, State University of New York; National Park Service, Statue of Liberty National Monument; University College, London; International Center of Photography; Archiv zur Geschichte der Max-Planck-Gesellschaft, Berlin-Dahlem; and Special Collections, University of Tennessee, Knoxville.
The images and text in this Archive are solely for educational and scholarly uses. The materials may be used in digital or print form in reports, research, and other projects that are not offered for sale. Materials in this archive may not be used in digital or print form by organizations or commercial concerns, except with express permission.