1765:

C.B. Davenport letter to H.J. Muller, about reasons against holding a genetics congress in Russia (7/6/1937)

Date:

1937

Source:

Cold Spring Harbor, ERO, Davenport, 1935-37

View this image in our new website.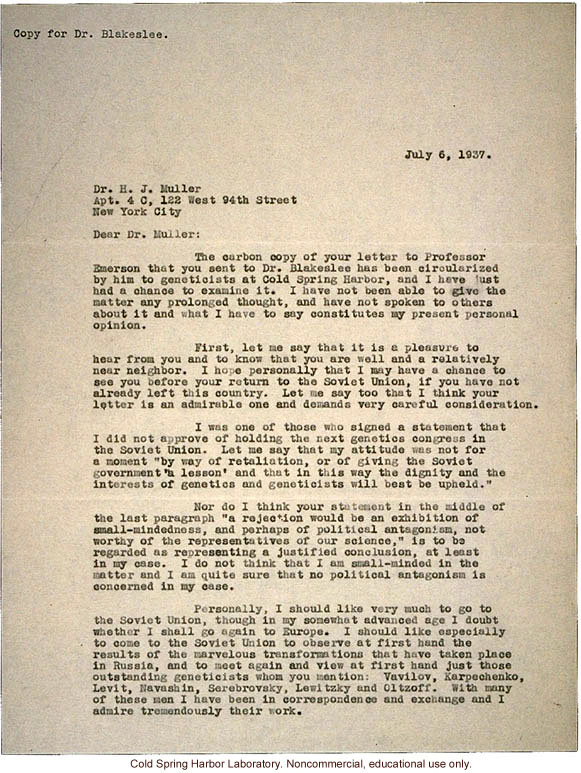 Copy for Dr. Blakeslee July 6, 1937. Dr. H.J. Muller Apt. 4 C, 122 West 94th Street Dear Dr. Muller: The carbon copy of your letter to Professor Emerson that you sent to Dr. Blakeslee has been circularized by him to geneticists at Cold Spring Harbor, and I have just had a chance to examine it. I have not been able to give the matter any prolonged thought, and have not spoken to others about it and what I have to say constitutes my present personal opinion. First, let me say that it is a pleasure to hear from you and to know that you are well and a relatively near neighbor. I hope personally that I may have a chance to see you before your return to the Soviet Union, if you have not already left this country. Let me say too that I think your letter is an admirable one and demands very careful consideration. I was one of those who signed a statement that I did not approve of holding the next genetics congress in the Soviet Union. Let me say that my attitude was not for a moment "by way of retaliation, or of giving the Soviet government 'a lesson' and that in this way the dignity and the interests of genetics and geneticists will best be upheld." Nor do I think your statement in the middle of the last paragraph "a rejection would be an exhibition of small-mindedness, and perhaps of political antagonism, not worthy of the representatives of our science," is to be regarded as representing a justified conclusion, at least in my case. I do not think that I am small-minded in the matter and I am quite sure that no political antagonism is concerned in my case. Personally, I should very much like to go to the Soviet Union, though in my somewhat advanced age I doubt whether I shall go again to Europe. I should like especially to come to the Soviet Union to observe at first hand the results of the marvelous transformations that have taken place in Russia, and to meet again and view at first hand just those outstanding geneticists whom you mention: Vavilov, Karpechenko, Levit, Navashin, Serebrovsky, Lewitzky and Oltzoff. With many of these men I have been in correspondence and exchange and I admire tremendously their work. [end]




Copyright 1999-2004: Cold Spring Harbor Laboratory; American Philosophical Society; Truman State University; Rockefeller Archive Center/Rockefeller University; University of Albany, State University of New York; National Park Service, Statue of Liberty National Monument; University College, London; International Center of Photography; Archiv zur Geschichte der Max-Planck-Gesellschaft, Berlin-Dahlem; and Special Collections, University of Tennessee, Knoxville.
The images and text in this Archive are solely for educational and scholarly uses. The materials may be used in digital or print form in reports, research, and other projects that are not offered for sale. Materials in this archive may not be used in digital or print form by organizations or commercial concerns, except with express permission.