1886:

"Syndactyly in the F__ Family," Eugenical News (vol. 15), fused fingers or toes -- later shown to be an autosomal dominant trait

Date:

1930

Source:

Cold Spring Harbor, ERO, Eugenical News, 15

View this image in our new website.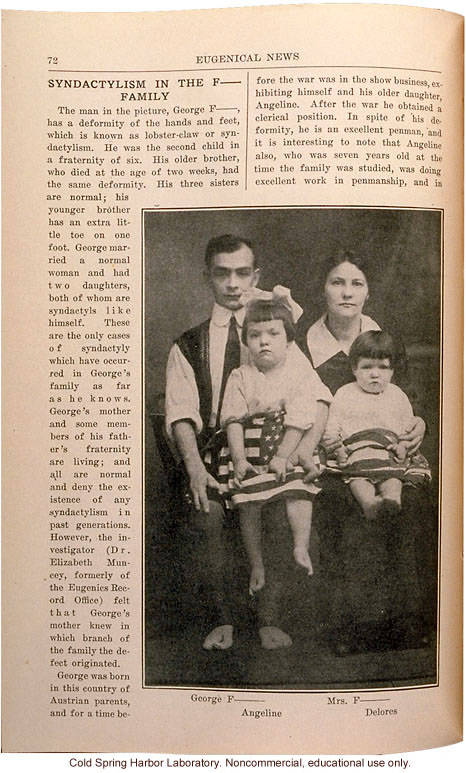 72 Eugenical News [hairline rule across two columns] [family photo in lower right section] Syndactylism in the F--- Family The man in the picture, George F---, has a deformity of the hands and feet, which is known as lobster-claw or syndactylism. He was the second child in a fraternity of six. His older brother, who died at the age of two weeks, had the same deformity. His three sisters are normal; his younger brother has an extra little toe on one foot. George married a normal woman and had two daughters, both of whom are syndactyls like himself. These are the only cases of syndactyly which have occurred in George's family as far as he knows. George's mother and some members of his father's fraternity are living; and all are normal and deny the existence of any syndactylism in past generations. However, the investigator (Dr. Elizabeth Muncey, formerly of the Eugenics Record Office) felt that George's mother knew in which branch of the family the defect originated. George was born in the country of his Austrian parents, and for a time before the war was in show business, exhibiting himself and his older daughter, Angeline. After the war he obtained a clerical position. In spite of his deformity, he is an excellent penman, and it is interesting to note that Angeline also, who was seven years old at the time the family was studied, was doing excellent work in penmanship, and in [caption]George F--- Mrs, F--- Angeline Delores [end]




Copyright 1999-2004: Cold Spring Harbor Laboratory; American Philosophical Society; Truman State University; Rockefeller Archive Center/Rockefeller University; University of Albany, State University of New York; National Park Service, Statue of Liberty National Monument; University College, London; International Center of Photography; Archiv zur Geschichte der Max-Planck-Gesellschaft, Berlin-Dahlem; and Special Collections, University of Tennessee, Knoxville.
The images and text in this Archive are solely for educational and scholarly uses. The materials may be used in digital or print form in reports, research, and other projects that are not offered for sale. Materials in this archive may not be used in digital or print form by organizations or commercial concerns, except with express permission.