2140:

Ida Darwin letter to Karl Pearson about definition of mental defectiveness for Mental Deficiency Act before Parliament (12/5/1912)

Date:

1912

Source:

University College London, KP, 673

View this image in our new website.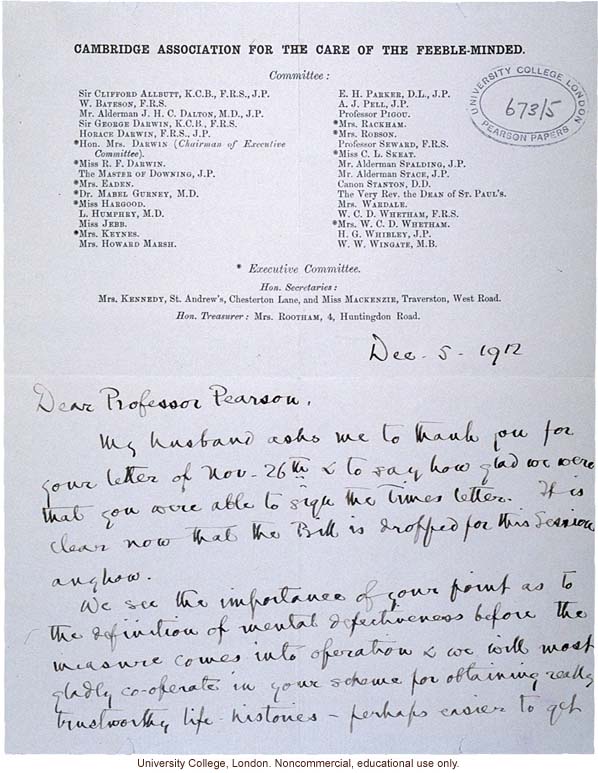 Cambridge Association for the Care of the Feeble-Minded. Committee: Sir Clifford Allbutt, K.C.B., F.R.S., J.P. W. Bateson, F.R.S. Mr. Alderman, J. H. C. Dalton, M.D., J.P. Sir George Darwin, K.C.B., F.R.S. Horace Darwin, F.R.S., J.P. *Hon. Mrs. Darwin (Chairwoman of Executive Committee) *Miss R. F. Darwin. The Master of Downing, J.P. *Mrs. Eaden. *Dr. Mabel Gurney, M.D. *Miss Hargood. L. Humphry, M.D. Miss Jebb. *Mrs. Keynes. Mrs. Howard Marsh. E. H. Parker, D.L., J.P. A. J. Pell, J.P. Professor Pigou. *Mrs. Rackham. *Mrs. Robson. Professor Seward, F.R.S. *Miss C. L. Skeat. Mr. Alderman Spalding, J.P. Mr. Alderman Stace, J.P. Canon Stanton, D.D. The Very Rev. The Dean of St. Paul's. Mrs. Wardale. *Mrs. W. C. D. Whetham, F.R.S. H. G. Whibley, J.P. W. W. Wingate, M.B. *Executive Committee. Hon. Secretaries: Mrs. Kennedy, St. Andrew's, Chesterton Lane, and Miss Mackenzie, Traverston, West Road. Hon. Treasurer: Mrs. Rootham, 4, Huntington Road. Dec. 5-1912 Dear Professor Pearson, My husband asks me to thank you for your letter of Nov 26th & to say how glad we were that you were able to sign the Times letter. It is clear now that the Bill is dropped for this session anyhow. We see the importance of your point as to the definition of mental defectiveness before the measure comes into operation & we will most gladly cooperate in your scheme for obtaining really trustworthy life-histories - perhaps easier to get [end]




Copyright 1999-2004: Cold Spring Harbor Laboratory; American Philosophical Society; Truman State University; Rockefeller Archive Center/Rockefeller University; University of Albany, State University of New York; National Park Service, Statue of Liberty National Monument; University College, London; International Center of Photography; Archiv zur Geschichte der Max-Planck-Gesellschaft, Berlin-Dahlem; and Special Collections, University of Tennessee, Knoxville.
The images and text in this Archive are solely for educational and scholarly uses. The materials may be used in digital or print form in reports, research, and other projects that are not offered for sale. Materials in this archive may not be used in digital or print form by organizations or commercial concerns, except with express permission.