2227:

Lionel Penrose letter to Lancelot Hogben about early results from his Colchester survey suggesting non-hereditary factors in mental illness (7/19/32)

Date:

1932

Pages:1 of 1

Source:

University College London, LP, 139/4

View this image in our new website.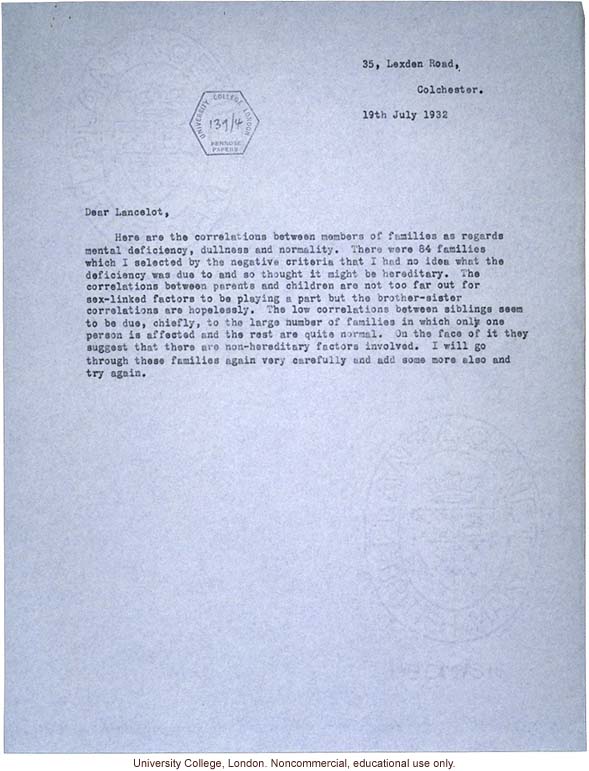 [stamped]University College London Penrose Papers 137/4[end stamp] 35, Lexden Road, Colchester. 19th July 1932 Dear Lancelot, Here are the correlations between members of families as regards mental deficiency, dullness, and normality. There were 84 families which I selected by the negative criteria that I had no idea what the deficiency was due to and so thought it might be hereditary. The correlations between parents and children are not too far out for sex-linked factors to be playing a part but the brother-sister correlations are hopelessly. The low correlations between siblings seem to be due, chiefly, to the large number of families in which only one person is affected and the rest are quite normal. On the face of it they suggest that there are non-hereditary factors involved. I will go through these families again very carefully and add some more also and try again. [watermark] [end]




Copyright 1999-2004: Cold Spring Harbor Laboratory; American Philosophical Society; Truman State University; Rockefeller Archive Center/Rockefeller University; University of Albany, State University of New York; National Park Service, Statue of Liberty National Monument; University College, London; International Center of Photography; Archiv zur Geschichte der Max-Planck-Gesellschaft, Berlin-Dahlem; and Special Collections, University of Tennessee, Knoxville.
The images and text in this Archive are solely for educational and scholarly uses. The materials may be used in digital or print form in reports, research, and other projects that are not offered for sale. Materials in this archive may not be used in digital or print form by organizations or commercial concerns, except with express permission.