2329:

Morris Steggerda's handwritten directions for administering Form Discrimination Tests conducted at Mico College for Race Crossing in JamaicaC

Date:

1927

Pages:1 of 1

Source:

National Museum of Health and Medicine, Otis Historical Archives, Steggerda, Box 5 Folder 42, 97 2451a

View this image in our new website.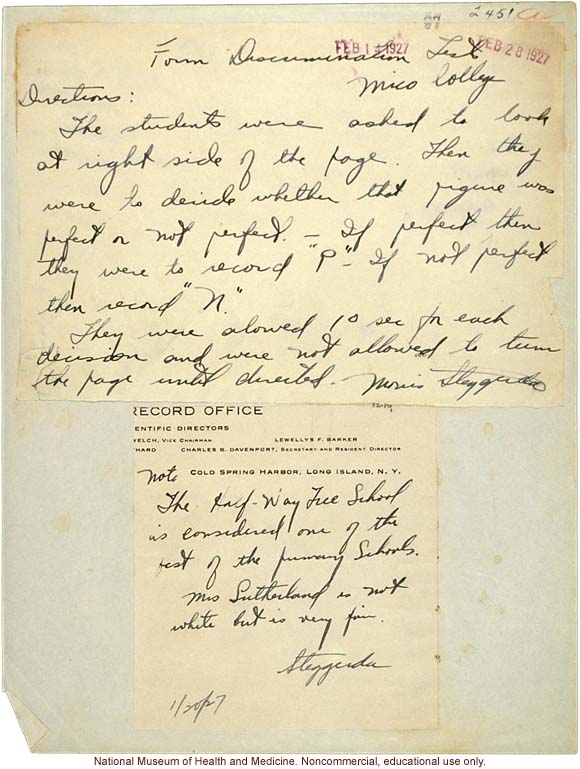 97 2451 a Feb 14 1927 Feb 28 1927 Form Discrimination Tests Mico College Directions: The students were asked to look at right side of the page. Then they were to decide whether that figure was perfect of not perfect. - If perfect then they were to record "P" - If not perfect then record "N". They were alowed[sic] 10 sec for each decision and were not allowed to turn the page until directed. Morris Steggerda [inserted note, left side torn] Record Office entific Directors velch, Chairman Lewellys F. Barker hard Charles B. Davenport, Secretary and Resident Director Cold Spring Harbor, Long Island, N. Y. Note The Half-Way Free School is considered one of the best of the primary Schools. Mrs. Sutherland is not white but is very fair. Steggerda 1/20/27 [end]




Copyright 1999-2004: Cold Spring Harbor Laboratory; American Philosophical Society; Truman State University; Rockefeller Archive Center/Rockefeller University; University of Albany, State University of New York; National Park Service, Statue of Liberty National Monument; University College, London; International Center of Photography; Archiv zur Geschichte der Max-Planck-Gesellschaft, Berlin-Dahlem; and Special Collections, University of Tennessee, Knoxville.
The images and text in this Archive are solely for educational and scholarly uses. The materials may be used in digital or print form in reports, research, and other projects that are not offered for sale. Materials in this archive may not be used in digital or print form by organizations or commercial concerns, except with express permission.