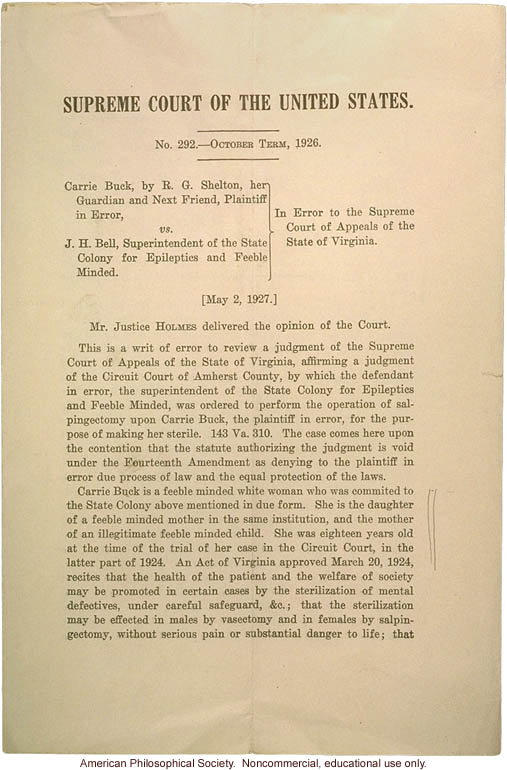 SUPREME COURT OF THE UNITED STATES. No. 292. - October Term, 1926. Carrie Buck, by R.G. Shelton, her Guardian and Next Friend, Plaintiff in Error, vs. J.H. Bell, Superintendent of the State Colony for Epileptics and Feeble Minded. In Error to the Supreme Court of Appeals of the State of Virginia. [May 2, 1927.] Mr. Justice Holmes delivered the opinion of the Court. This is a writ of error to review a judgment of the Supreme Court of Appeals of the State of Virginia, affirming a judgment of the Circuit Court of Amherst County, by which the defendant in error, the superintendent of the State Colony for Epileptics and Feeble Minded, was ordered to perform the operation of salpingectomy upon Carrie Buck, the plaintiff in error, for the purpose of making her sterile. 143 Va. 310. The case comes here upon the contention that the statute authorizing the judgment is void under the Fourteenth Amendment as denying the plaintiff in error due process of law and equal protection of the laws. Carrie Buck is a feeble minded white woman who was committed to the State Colony above mentioned in due form. She is the daughter of a feeble minded mother in the same institution, and the mother of an illegitimate feeble minded child. She was eighteen years old at the time of the trial of her case in the Circuit Court, in the latter part of 1924. An Act of Virginia approved March 20, 1924, recites that the health of the patient and the welfare of society may be promoted in certain cases by the sterilization of mental defectives, under careful safeguard, &c.; that the sterilization may be effected in males by vasectomy and in females by salpingectomy, without serious pain or substantial danger to life; that




Copyright 1999-2004: Cold Spring Harbor Laboratory; American Philosophical Society; Truman State University; Rockefeller Archive Center/Rockefeller University; University of Albany, State University of New York; National Park Service, Statue of Liberty National Monument; University College, London; International Center of Photography; Archiv zur Geschichte der Max-Planck-Gesellschaft, Berlin-Dahlem; and Special Collections, University of Tennessee, Knoxville.
The images and text in this Archive are solely for educational and scholarly uses. The materials may be used in digital or print form in reports, research, and other projects that are not offered for sale. Materials in this archive may not be used in digital or print form by organizations or commercial concerns, except with express permission.