405:

"Eugenics, a subject for investigation rather than instruction," American Breeders Association Eugenics Section

Date:

Circa 1909

Source:

American Philosophical Society, Dav, B:D27.,Amer Breeders Assoc, Eugenics

View this image in our new website.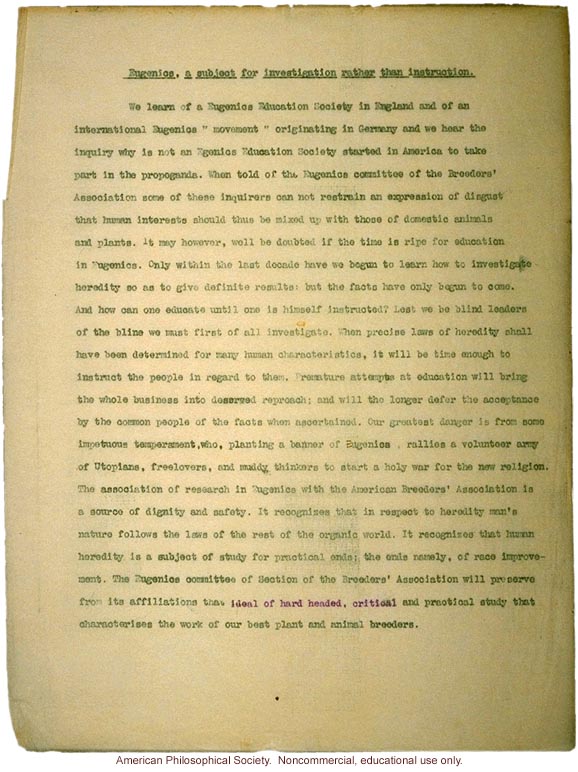 Eugenics, A subject for investigation rather than instruction. We learn of a Eugenics Education Society in England and of an international Eugenics "movement" originating in Germany and we hear the inquiry why is not an Egenics[sic] Education Society started in America to take part in the propoganda. When told of the Eugenics committee of the Breeders' Association some of these inquirers can not restrain an expression of disgust that human interests should thus be mixed up with those of domestic animals and plants. It may however, well be doubted if the time is ripe for education in Eugenics. Only within the last decade have we begun to learn how to investigate heredity so as to give definite results: but the facts have only begun to come. And how can one educate until one is himself instructed? Lest we be blind leaders of the bline[sic] we must first of all investigate. When precise laws of heredity shall have been determined for many human characteristics, it will be time enough to instruct the people in regard to them. Premature attempts at education will bring the whole business into deserved reproach; and will the longer defer the acceptance by the common people of the facts when ascertained. Our greatest danger is from some impetuous temperament, who, planting a banner of Eugenics, rallies a volunteer army of Utopians, freelovers, and muddy thinkers to start a holy war for the new religion. The association of research in Eugenics with the American Breeders' Association is a source of dignity and safety. It recognizes that in respect to heredity man's nature follows the laws of the rest of the organic world. It recognizes that human heredity is a subject of study for practical ends; the [ILLEGIBLE] namely, of race improvement. The Eugenics committee of Section of the Breeders' Association will preserve from its affiliations that ideal of hard headed, critical and practical study that characterizes the work of our best plant and animal breeders.




Copyright 1999-2004: Cold Spring Harbor Laboratory; American Philosophical Society; Truman State University; Rockefeller Archive Center/Rockefeller University; University of Albany, State University of New York; National Park Service, Statue of Liberty National Monument; University College, London; International Center of Photography; Archiv zur Geschichte der Max-Planck-Gesellschaft, Berlin-Dahlem; and Special Collections, University of Tennessee, Knoxville.
The images and text in this Archive are solely for educational and scholarly uses. The materials may be used in digital or print form in reports, research, and other projects that are not offered for sale. Materials in this archive may not be used in digital or print form by organizations or commercial concerns, except with express permission.