507:

H. Laughlin letter to C. Davenport about the financial difficulties of the "Eugenical News"

Date:

1932

Source:

American Philosophical Society, Dav, B:D27,Ser 2,CSH-ERO

View this image in our new website.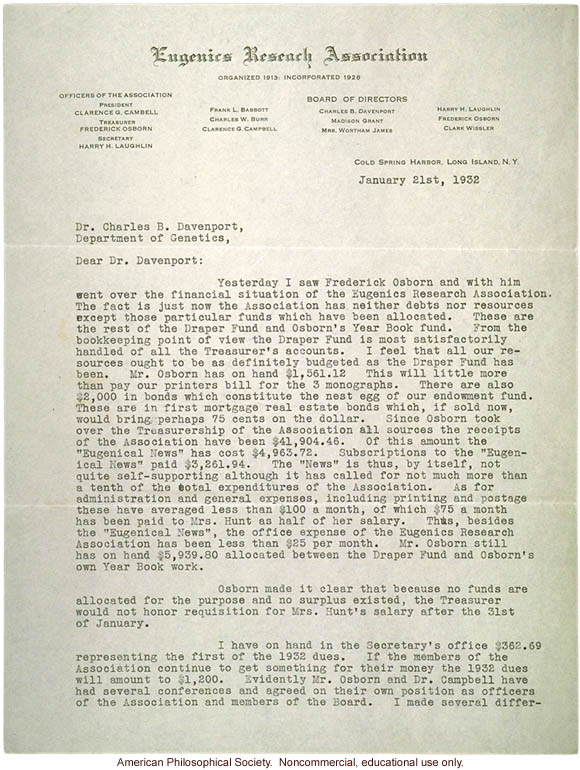 Eugenics Research Association Organized 1913: Incorporated 1920 Officers of the Association President Clarence G. Campbell Treasurer Frederick Osborn Secretary Harry H. Laughlin Frank L. Barbott Charles W. Burr Clarence G. Campbell Board of Directors Charles B. Davenport Madison Grant Mrs. Wortham James Harry H. Laughlin Frederick Osborn Clark Wissler Cold Spring Harbor, Long Island, N. Y. January 21st, 1932 Dr. Charles B. Davenport, Department of Genetics, Dear Dr. Davenport, Yesterday I saw Frederick Osborn and with him went over the financial situation of the Eugenics Research Association. The fact is just now the Association has neither debts nor resources except those particular funds which have been allocated. These are the Draper Fund and Osborn's Year Book fund. From the bookkeeping point of view the Draper Fund is most satisfactorily handled of all the Treasurer's accounts. I feel that all our resources ought to be as definitely budgeted as the Draper Fund has been. Mr. Osborn has on hand $1,561.12 This will little more than pay our printers bill for the 3 monographs. There are also $2,000 in bonds which constitute the nest egg of our endowment fund. These are in first mortgage real estate bonds which, if sold now, would perhaps bring 75 cents on the dollar. Since Osborn took over the Treasurership of the Association all sources the receipts of the Association have been $41,904.46. Of this amount the "Eugenical News" has cost $4,963.72. Subscriptions to the "Eugenical News" paid $3,261.94. The "News" is thus, by itself, not quite self-supporting although it has called for not much more than a tenth of the total expenditures of the Association. As for administration and general expenses, including printing and postage these have averaged less than $100 a month, of which $75 a month has been paid to Mrs. Hunt as half of her salary. Thus, besides the "Eugenical News", the office expense of the Eugenics Research Association has been less than $25 per month. Dr. Osborn still has on hand $5,939.80 allocated between the Draper Fund and Osborn's own Year Book work. Osborn made it clear that because no funds are allocated for the purpose and no surplus existed, the Treasurer would not honor requisition for Mrs. Hunt's salary after the 31st of January. I have on hand in the Secretary's office $362.69 representing the first of the 1932 dues. If the members of the Association continue to get something for their money the 1932 dues will amount to $1,200. Evidently Mr. Osborn and Dr. Campbell have had several conferences and agreed on their own positions as officers of the Association and members of the Board. I made several differ-




Copyright 1999-2004: Cold Spring Harbor Laboratory; American Philosophical Society; Truman State University; Rockefeller Archive Center/Rockefeller University; University of Albany, State University of New York; National Park Service, Statue of Liberty National Monument; University College, London; International Center of Photography; Archiv zur Geschichte der Max-Planck-Gesellschaft, Berlin-Dahlem; and Special Collections, University of Tennessee, Knoxville.
The images and text in this Archive are solely for educational and scholarly uses. The materials may be used in digital or print form in reports, research, and other projects that are not offered for sale. Materials in this archive may not be used in digital or print form by organizations or commercial concerns, except with express permission.