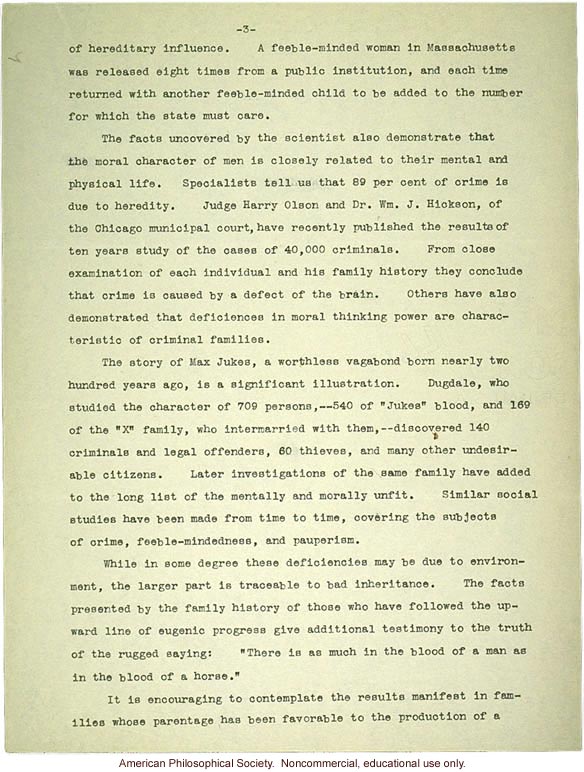 [page number] -3- [end page number] of hereditary influence. A feeble-minded woman in Massachusetts was released eight times from a public institution, and each time returned with another feeble-minded child to be added to the number for which the state must care. The facts uncovered by the scientist also demonstrate that the moral character of men is closely related to their mental and physical life. Specialists tell us that 89 per cent of crime is due to heredity. Judge Harry Olson and Dr. Wm. J. Hickson, of the Chicago municipal court, have recently published the results of ten years study of the cases of 40,000 criminals. From close examination of each individual and his family history they conclude that crime is caused by a defect of the brain. Others have also demonstrated that deficiences [sic] in moral thinking power are characteristic of criminal families. The story of Max Jukes, a worthless vagabond born nearly two hundred years ago, is a significant illustration. Dugdale, who studied the character of 709 persons, --540 of "Jukes" blood, and 169 of the "X" family, who intermarried with them, --discovered 140 criminals and legal offenders, 60 thieves, and many other undesirable citizens. Later investigations of the same family have added to the long list of the mentally and morally unfit. Similar social studies have been made from time to time, covering the subjects of crime, feeble-mindedness, and pauperism. While in some degree these deficiencies may be due to environment, the larger part is traceable to bad inheritance. The facts presented by the family history of those who have followed the upward line of eugenic progress give additional testimony to the truth of the rugged saying: "There is as much in the blood of a man as in the blood of a horse." It is encouraging to contemplate the results manifest in families whose parentage has been favorable to the production of a




Copyright 1999-2004: Cold Spring Harbor Laboratory; American Philosophical Society; Truman State University; Rockefeller Archive Center/Rockefeller University; University of Albany, State University of New York; National Park Service, Statue of Liberty National Monument; University College, London; International Center of Photography; Archiv zur Geschichte der Max-Planck-Gesellschaft, Berlin-Dahlem; and Special Collections, University of Tennessee, Knoxville.
The images and text in this Archive are solely for educational and scholarly uses. The materials may be used in digital or print form in reports, research, and other projects that are not offered for sale. Materials in this archive may not be used in digital or print form by organizations or commercial concerns, except with express permission.