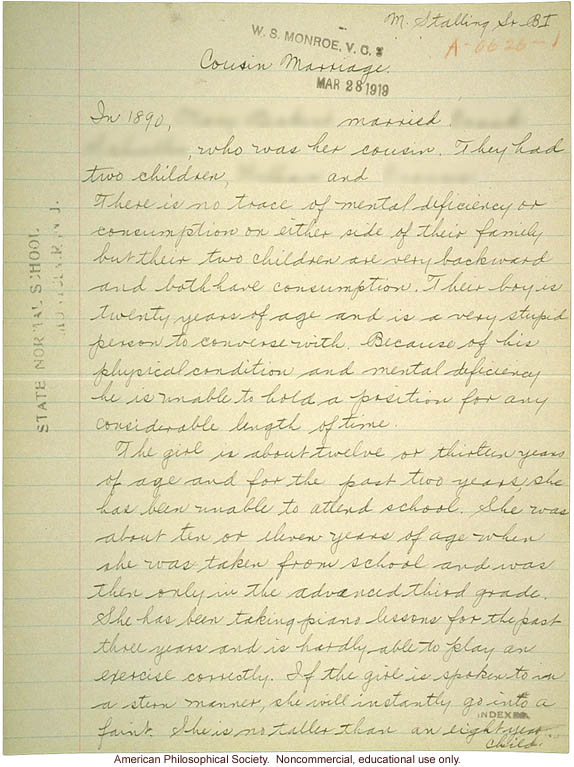 W.S. Monroe V.G. Mar 28 1919 Cousin Marriage In 1890, [obscured] married [obscured], who was her cousin. They had two children, [obscured] and [obscured]. There is no trace of mental deficiency or consumption on either side of their family but their two children are very backward and both have consumption. The boy is twenty years of age and is a very stupid person to converse with. Because of his physical condition and mental deficiency he is unable to hold a position for any considerable length of time. The girl is about twelve or thirteen years of age and for the past two years she has been unable to attend school. She was about ten or eleven years of age when she was taken from school and was then only in the advanced third grade. She has been taking piano lessons for the past three years and is hardly able to play an exercise correctly. If the girl is spoken to in a stern manner, she will instantly go into a faint. She is no taller than an eight year child.




Copyright 1999-2004: Cold Spring Harbor Laboratory; American Philosophical Society; Truman State University; Rockefeller Archive Center/Rockefeller University; University of Albany, State University of New York; National Park Service, Statue of Liberty National Monument; University College, London; International Center of Photography; Archiv zur Geschichte der Max-Planck-Gesellschaft, Berlin-Dahlem; and Special Collections, University of Tennessee, Knoxville.
The images and text in this Archive are solely for educational and scholarly uses. The materials may be used in digital or print form in reports, research, and other projects that are not offered for sale. Materials in this archive may not be used in digital or print form by organizations or commercial concerns, except with express permission.