890:

W. Todd letter to L Frank, about x-ray study of children

Date:

1926

Pages:1 of 1

Source:

Rockefeller Archive Center, Ser 3, Box 43, Folder 449, Laura Spelman Rockefeller Memorial Collection

View this image in our new website.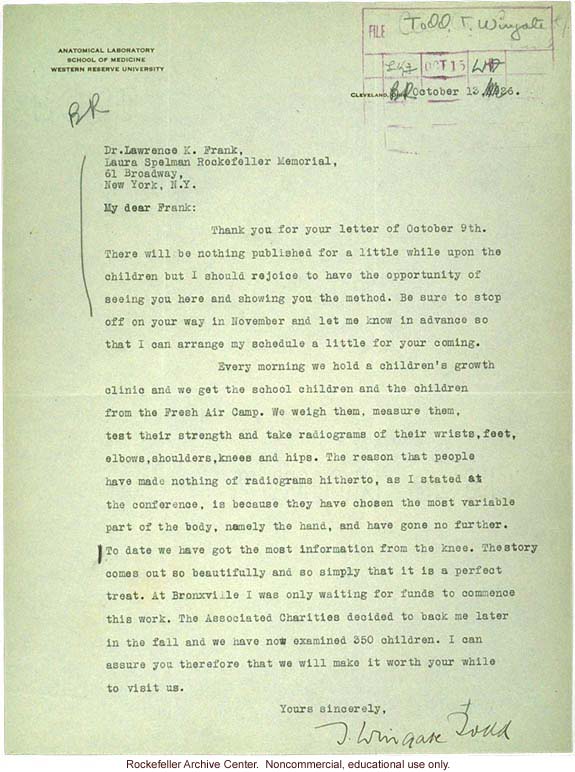 [stamped on]FILE Todd J. Wingate OCT 15 October 13, 26 [end stamp] Anatomical Laboratory School of Medicine Western Reserve University Dr. Lawrence K. Frank, Laura Spelman Rockefeller Memorial, 61 Broadway, New York, N.Y. My dear Frank: Thank you for your letter of October 9th. There will be nothing published for a little while upon the children but I should rejoice to have the opportunity of seeing you here and showing you the method. Be sure to stop off on your way in November and let me know in advance so that I can arrange my schedule a little for your coming. Every morning we hold a children's growth clinic and we get the school children and the children from the Fresh Air Camp. We weigh them, measure them, test their strength and take radiograms of their wrists, feet, elbows, shoulders, knees and hips. The reason that people have made nothing of radiograms hitherto, as I stated at the conference, is because they have chosen the most variable part of the body, namely the hand, and have gone no further. To date we have got the most information from the knee. The story comes out so beautifully and so simply that it is a perfect treat. At Bronxville I was only waiting for funds to commence this work. The Associated Charities decided to back me later in the fall and we have now examined 350 children. I can assure you that we will make it worth your while to visit us. Your sincerely, [signed]T. Wingate Todd




Copyright 1999-2004: Cold Spring Harbor Laboratory; American Philosophical Society; Truman State University; Rockefeller Archive Center/Rockefeller University; University of Albany, State University of New York; National Park Service, Statue of Liberty National Monument; University College, London; International Center of Photography; Archiv zur Geschichte der Max-Planck-Gesellschaft, Berlin-Dahlem; and Special Collections, University of Tennessee, Knoxville.
The images and text in this Archive are solely for educational and scholarly uses. The materials may be used in digital or print form in reports, research, and other projects that are not offered for sale. Materials in this archive may not be used in digital or print form by organizations or commercial concerns, except with express permission.