90:

"Heredity Criminality and its Certain Cure," by Warren Foster, Pearson's Magazine

Date:

1909

Pages:1 of 1

Source:

American Philosophical Society, ERO, MSC77

View this image in our new website.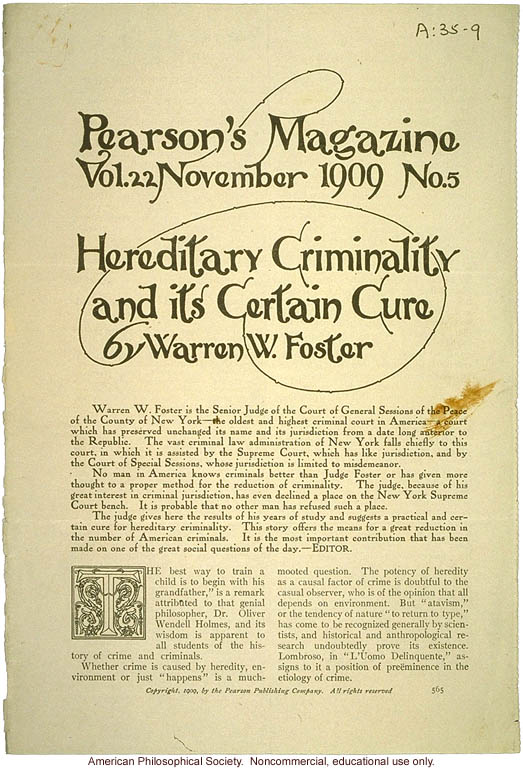 090. Pearson's Magazine Vol. 22 November 1909 No. 5 Hereditary Criminality and its Certain Cure By Warren W. Foster Warren W. Foster is the Senior Judge of the Court of General Sessions of the Peace of the County of New York - the oldest and highest criminal court in America - a court which has preserved unchanged its name and its jurisdiction from a date long anterior to the Republic. The vast criminal law administration of New York falls chiefly to this court, in which it is assisted by the Supreme Court, which has like jurisdiction, and by the Court of Special Sessions, whose jurisdiction is limited to misdemeanor. No man in America knows criminals better than Judge Foster or has given more thought to a proper method for the reduction of criminality. The judge, because of his great interest in criminal jurisdiction, has even declined a place on the New York Supreme Court bench. It is probable that no other man has refused such a place. The judge gives here the results of his years of study and suggests a practical and certain cure for hereditary criminality. This story offers the means for a great reduction in the number of American criminals. It is the most important contribution that has been made on one of the great social questions of the day. - Editor. "The best way to train a child is to begin with his grandfather," is a remark attributed to that genial philosopher Dr. Oliver Wendell Holmes, and its wisdom is apparent to all students of the history of crime and criminals. Whether crime is caused by heredity, environment or just "happens" is a much-mooted question. The potency of heredity as a causal factor of crime is doubtful to the casual observer, who is of the opinion that all depends on environment. But "atavism," or the tendency of nature "to return to type," has come to be recognized generally by scientists, and historical and anthropological research undoubtedly prove its existence. Lombroso, in "L'Uomo Deliquente," assigns to it a position of preeminence in the etiology of crime. Copyright 1909, by the Pearson Publishing Company. All rights reserved. 565




Copyright 1999-2004: Cold Spring Harbor Laboratory; American Philosophical Society; Truman State University; Rockefeller Archive Center/Rockefeller University; University of Albany, State University of New York; National Park Service, Statue of Liberty National Monument; University College, London; International Center of Photography; Archiv zur Geschichte der Max-Planck-Gesellschaft, Berlin-Dahlem; and Special Collections, University of Tennessee, Knoxville.
The images and text in this Archive are solely for educational and scholarly uses. The materials may be used in digital or print form in reports, research, and other projects that are not offered for sale. Materials in this archive may not be used in digital or print form by organizations or commercial concerns, except with express permission.